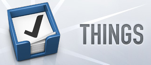 I'm currently using Things from Cultered Code as my to-do list organizer in Mac OS X. Things is great. There are several many reasons as to why, but perhaps one of the most useful is the to-do quick entry function.

Similar to QuickSilver, there is a system-wide keystroke that invokes the persistently hovering (modal) to-do entry form. Very quickly, one can enter to-dos from any app, tag it, and add it to an in-bin. Not sure if the tagging is necessary, but that's for a different post.
Essentially though, you can drag-and-drop any actionable item (document, application, email, text clip, Web site URL, photograph, music file, etc.) to the "Notes" field and Things will automagically create a link to it enabling you to quickly get to the item you need to act on.
This is especially useful for email because it allows me to get the email out of my inbox and into my archive; thus, helping me get to inbox:zero. As an added bonus, you can move the item after creating the to-do and the link doesn't break. Nice.
Here's an example, I need to act on an email later on. So, after invoking the to-do item entry window (with a customized keystroke; see Things' preferences) I just drag-and-drop the email from my mail app and a shortcut is created.
Drag Email onto Notes Field:

Link Created in Notes Field

Now, when I go in to Things to either manage or complete my to-dos, there is a link to the email I need to act on. This is better than having the actual email in my to-do box because it won't clutter my workspace. And no clutter is a good thing, right? Right.